Fleet Graphics/Car Magnetics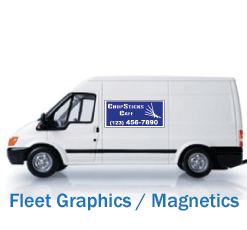 Advertise While You Drive!
Fleet graphics puts your name out on the road. Vinyl graphics and Magnetic Car Signs take your advertising to your work area.
We use top grade materials for our vinyl and magnetic products. Whether or not you have a pre-existing image for us to use, contact us at

800-747-0445

or

support@weneedsigns.com

and we'll put together a corporate look just for you!
To order custom signs, simply give us a call at 800-747-0445. We'll email you an order form that you can fill out and send to support@weneedsigns.com alongside the desired image.
Magnetic Prices
| | | | | |
| --- | --- | --- | --- | --- |
| | 12"x12" | 15"x12" | 24"x12" | 48"x24" |
| 1+ | $32.75 | $34.40 | $45.85 | $91.70 |
| 2+ | $28.15 | $34.00 | $37.65 | $75.35 |
| 3+ | $25.30 | $34.00 | $33.10 | $66.25 |
| 4+ | $23.90 | $29.45 | $30.85 | $61.70 |
| 5+ | $22.65 | $29.45 | $28.90 | $57.80 |
| 6+ | $21.80 | $25.00 | $27.50 | $54.95 |
| 12+ | $18.25 | $19.40 | $24.10 | $48.20 |
| 25+ | $14.60 | $15.75 | $20.15 | $40.30 |
| 50+ | $13.05 | $13.05 | $18.35 | $36.65 |
| 100+ | $10.90 | $12.05 | $16.75 | $33.50 |
Vehicle Vinyl Graphics Prices
| | |
| --- | --- |
| | 24"x12" |
| 1+ | $40.66 |
| 2+ | $33.17 |
| 3+ | $28.79 |
| 4+ | $26.82 |
| 5+ | $25.12 |
| 6+ | $23.90 |
| 12+ | $18.95 |
| 24+ | $15.52 |
| 50+ | $13.86 |
| 100+ | $11.45 |